Introduction: The Legacy of Hiatt's Florist
For over 60 years, Hiatt's Florist has been a staple in our community, providing beautiful floral arrangements for all occasions. Founded in 1962 by Margaret Hiatt, the shop quickly became known for its high-quality blooms, personal customer service, and unique gift items. Though ownership has changed hands over the decades, Hiatt's has remained family-owned and committed to honoring the legacy of its founder.
As a full-service retail florist, Hiatt's offers fresh-cut flowers, plants, balloons, plush toys, and custom gift baskets. Our team of talented designers creates floral arrangements for birthdays, anniversaries, weddings, funerals, holidays, and more. We source our flowers from local growers and exotic imports to provide a wide selection for our discerning customers.
Over time, the interior of Hiatt's began to show its age and no longer reflected the high standards we set for our business. We made the difficult decision to temporarily close our doors for several months to undergo a complete renovation. Our goal was to preserve the essence of Hiatt's rich history while integrating modern design elements and technology to better serve customers.
Why Renovate? The Need for Modernisation
Though our customer service never wavered, the decor and layout of Hiatt's was stuck in the past. We had not undergone major renovations since the 1990s, and our furnishings, flooring, lighting, and merchandising systems were woefully outdated.
Customers expected more modern payment options than just cash or check. Our lack of credit card processing equipment and inventory management system cost us sales. Adapting to new technology became a priority.
Outdated electrical and plumbing also drove the need to renovate. We wanted to improve energy efficiency with LED light bulbs, heating, and AC. Bringing restrooms up to code and expanding capacity was important too.
Most importantly, our tired-looking space did not reflect the high-quality, fresh blooms we pride ourselves on. With new accent walls, lighting, displays, and seating, we could better highlight our flowers and uplift customers. The renovation allowed us to rearrange the floor plan for a smoother shopping experience.
We saw the renovation process as a rebirth – a chance to honor our history while refreshing our space. With improved systems and ambience, we positioned ourselves for decades more of serving our community.
Preserving History: Balancing Old with New
While we wanted to implement contemporary design trends, preserving Hiatt's legacy remained a priority. We aimed to strike the perfect balance between old and new.
Keeping our terrazzo floors maintained the vintage charm customers loved. We also proudly displayed historic photos showcasing Margaret Hiatt and the original store.
Small touches like engraved name plaates on display ladders, floral patterned wallpaper in sitting areas, and restored antique furnishings maintained continuity with our past.
We took care to retain the original exterior brickwork, windows, and signage. The gorgeous hand-painted ceiling mural from the 60s was carefully restored by artisans.
By blending classic and contemporary elements, we reinvented Hiatt's Florist for a new era while keeping what made it special. Our rebirth honored late founder Margaret Hiatt's vision.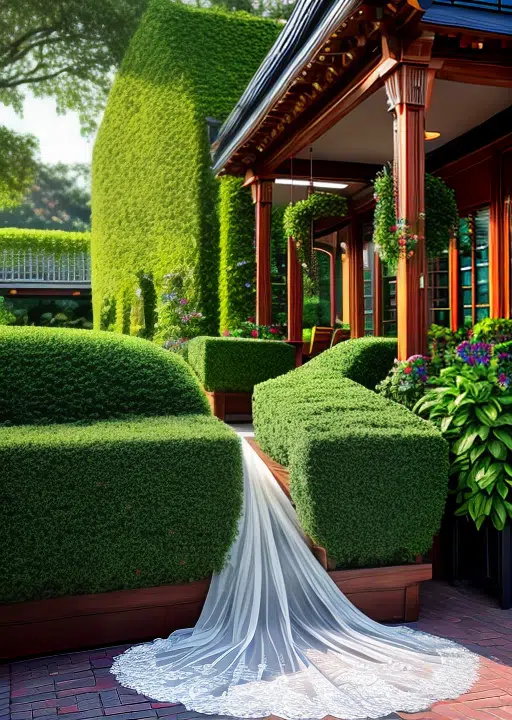 Setting the Stage: Initial Assessments
Our contractors conducted in-depth assessments before drafting renovation plans. They surveyed the site, mapped utility lines, evaluated wiring and plumbing systems, and analyzed the integrity of walls, floors and the roof.
This allowed them to identify issues needing correction, such as outdated electrical panels, corroded pipes, and termite damage. They also pinpointed areas for improvement like better lighting placement, climate control, and storage solutions.
We performed lead and asbestos testing to ensure worker safety. Thankfully, the building was free of hazardous materials.
The assessment stage was invaluable for diagnosing problems beforehand instead of encountering them mid-project. It enabled us to set a realistic timeline and budget.
The Renovation Blueprint: Our Plan Unveiled
Armed with assessments, our architect drew up the renovation blueprint detailing every project phase. Key elements included:
Demolishing worn surfaces and fixtures
Repairing walls, floors, windows
Expanding the main retail floor
Relocating plumbing and electrical
Creating a consultation station
Adding a coffee bar
Redesigning the cash wrap area
Building a walk-in cooler and back-room storage
Revamping arrangement workspace
Installing new checkout systems
Replacing lighting and HVAC systems
Refurbishing bathrooms
Upgrading exterior signage and facades
Adhering closely to this plan ensured our vision came to fruition smoothly and efficiently. It provided clarity on goals and prevented scope creep.
Budgeting: Allocating Resources Smartly
Meticulous budgeting was vital for a renovation of this scale. We analyzed pricing guidelines from contractors and suppliers and aligned estimates with our financial resources.
Key costs budgeted for included:
Construction and contracting fees
Permitting and inspection costs
Architect and designer fees
Electric, plumbing, and HVAC works
Flooring, walls, lighting, ceilings
Bathroom fixtures, tiles
Essential power tools and equipment
Security and tech upgrades
Furnishings – tables, cabinets, displays
Exterior facade refresh
Contingency funds for overages or changes
Setting spending allowances before starting prevented overspending. We allocated extra cushion for unexpected needs. Careful budgeting minimized financial risks and helped us affordably meet renovation goals.
Choosing the Right Team: Contractors and Designers
Selecting experienced, reliable contractors and designers ensured successful execution. We researched area firms and interviewed candidates, reviewing portfolios and checking references.
Our criteria included expertise across electrical, plumbing, carpentry, masonry, and more. It was important they had retail renovation experience and could preserve historic building elements.
We required evidence of proper licensing, insurance coverage, and bonding from contractors. For designers, we sought demonstrable skills in blending vintage and modern aesthetics.
In the end, we chose contractors and designers with proven records of meeting timelines and budgets. Their worksmanship and professionalism met our standards.
By carefully vetting our renovation team, we benefited from their specialized skills while avoiding potential pitfalls of hiring the wrong people.
The Role of Power Tools in Modern Renovations
Power tools played a crucial role in achieving our renovation goals on time and within budget. Their speed and efficiency minimized manual labor and sped up essential tasks like demolition, sanding, drilling and sawing.
We utilized:
Reciprocating saws to quickly dismantle old fixtures, walls, and floors
Circular saws for precision cuts through wood and light materials
Power drills for driving screws rapidly into wood and drywall
Sanders for smoothing and removing old varnish and paint
Nail guns for quick roofing, siding, and floor underlayment work
Power planers for refinishing damaged wood
Compressors and nailers for efficient finish carpentry
Tile saws for accurate ceramic and glass cuts
Rotary hammers for concrete and masonry demolition
Without modern power tools, our renovation would have taken far longer and proven more labor-intensive. They rendered tasks faster, easier, and more precise.
Hiring vs Buying: Making Cost-Effective Decisions
We analyzed whether to rent, hire, or purchase major power tools. Renting made sense for specialty tools or short-term needs. We hired scissor lifts, trenchers, tile saws, and more.
For frequently used tools, buying our own was worthwhile. We purchased cordless drills, circular saws, reciprocating saws, grinders, and fastening tools.
Owning our own supply meant tools were always on hand versus waiting for deliveries. Our chosen brands offered durability and long warranties for years of use.
We weighed factors like rental fees, purchase prices, and repair/maintenance costs. In the end, a combination of hiring, renting, and buying gave us optimal access to the power tools needed at fair prices.
Safety First: Protocols We Followed
Working with power tools carries inherent hazards. We mandated proper safety protocols to prevent accidents and injuries.
All construction crew wore protective gear like hard hats, safety goggles, ear plugs, masks, and gloves at all times. Proper attire reduced risks.
We required tool training certifications prior to using any equipment. Workers demonstrated competency before operating table saws, nail guns, jackhammers, and more.
Job site rules included clear evacuation routes, easily accessible fire extinguishers, and strict cleanliness standards to prevent slips and falls.
Signage alerted staff of any potential electrical, chemical, or fall hazards. We set age limits on tool usage per manufacturer guidelines.
By placing safety first, our crew completed the renovation incident and injury-free. Prior planning created an optimally secure work environment.
Demolition Days: Out with the Old
Our contractors suited up with helmets, goggles, respirators, and hearing protection before the messy work of demolition began. We marked areas designated for tear-out.
Reciprocating saws sliced through rigid walls and stubborn nails with ease. We ripped out ancient shelving, flooring, and damaged drywall in preparation for new structures.
Jackhammers broke apart cracked concrete while circular saws dismantled old timber frameworks. It was dusty, noisy work but power tools minimized resistance.
We safely blocked off areas being torn down and had dumpsters ready for removal of debris. Within a few short, grueling weeks, the space was stripped down to the bones.
Though demolition was tough, it represented a fresh start. Out with the worn and dated – in with the new! We took many deep breaths (when respirators allowed).
Foundation Checks: Ensuring Structural Integrity
Before building anew, assessing the integrity of load-bearing walls and the foundation was crucial. We inspected for cracks or faults.
Thankfully, the structure remained sound. We sealed minor cracks and continued monitoring for new ones.
Ensuring plumb lines were true before framing avoided bigger issues down the road. We checked that the ground was compacted sufficiently post-demolition.
Since HVAC systems impose additional roof loads, contractors verified load limits first. Thorough foundation and structural checks prevented catastrophic failures or collapses.
Establishing a solid base to build upon, both figuratively and literally, was a key first step. Hiatt's stood strong, ready for its rebirth.
Walls and Partitions: Redefining Spaces
With structural elements verified, framing the new floor plan began. Stud spacing followed code for proper fire resistance and strength.
We incorporated insulating materials like batts and sheathing to improve climate control and noise reduction. Vapor barriers prevented moisture accumulation within walls over time.
Painters prepped surfaces while we reviewed accent wall color options. We chose a soothing sage green and bold floral murals in key areas.
The previous layout had cramped workspaces and inadequate storage. New walls opened up floor space and defined functional zones.
We added a partition wall to separate the coffee bar from the main floor. Knocking down other walls improved traffic flow.
The evolving floorplan enabled our vision of a modernized Hiatt's. Walls formed the bones on which we built its reinvention.
Flooring Choices: From Vintage to Modern
Our terrazzo floors were restored to maintain an antique patina while updating their functional performance.
We chose luxury vinyl planks in the coffee bar and back office for durability and vintage oak styling. Porcelain tile went into all bathrooms.
Hardwood floor refinishing in high-traffic areas ensured longevity despite daily wear. We accentuated walkways with patterned area rugs.
For wall-to-wall carpet, we opted for stain resistant, comfortable wool in lounging spaces. Vibrant area rugs enlivened chocolate-hued hardwood floors.
By blending old terrazzo with new finishes, our flooring struck the perfect balance between historic charm and modern utility. Choices suited each space's specific use.
Ceiling Works: Elevating Aesthetics
Instilling a sense of openness and space was a ceiling work priority. We incorporated cloud-painted accent ceilings above the coffee bar and children's section.
The restored decorative mural on the main ceiling drew eyes up and created visual intrigue. Bold beams added architectural detail.
For work areas like floral design and the office, we chose acoustic panel drop ceilings to muffle noise. Bathrooms got moisture-resistant drywall.
New recessed lighting fixtures illuminated workspaces optimally. Accent lighting highlighted architectural details.
Through lighting choices and material variations, our ceiling design created zones adapted to their purpose. Yet the space retained an open, airy aura.
Electrical Overhaul: Modern Wiring for Modern Needs
One of our biggest investments was a complete electrical system overhaul. New computerized panels replaced outdated fuse boxes.
We added circuits to support additional lighting, outlets, and new HVAC systems without overloading. Safety was bolstered by arc fault interrupters.
Charging stations throughout the store met customer needs. We incorporated more phone and data lines along with upgraded internet wiring.
Behind the scenes, new racks kept wiring organized neatly. Proper grounding and surge protection equipment prevented damage.
Our contractors ensured all wiring met modern building codes. Periodic inspections verified safety.
Investing in major electrical upgrades brought Hiatt's decades forward in technology while improving safety and energy efficiency.
Plumbing Upgrades: Ensuring Efficiency
Plumbing issues in our aging bathrooms were a top concern. We replaced corroded pipes and outdated fixtures with new water-conserving toilets and taps.
New PEX piping prevented toxic lead leeching and reduced leak risks. We encased pipes for sound dampening.
Better bathroom ventilation kept odors from wafting. New water heaters boosted output for peak demand.
Out back, an upgraded hose bib simplified watering outdoor plants and cleaning the loading area. Trench drains kept the driveway clear of flooding.
Our plumbers ensured all new plumbing met code and allowed ample water pressure. Periodic water testing verified potability.
By renovating faulty plumbing, we modernized functionality while boosting water efficiency – and peace of mind.
Natural Light: Window and Skylight Installations
One design goal was infusing ample natural light throughout the space. Our previous enclosed layout felt dark and cramped.
Adding new windows along the south-facing wall brightened the main retail floor. Display spaces gained sunnier visibility.
Etched glass partitions between sections maintained light diffusion. For the coffee bar, a new skylight splash washed the space in sunshine.
Tinting on west-facing windows cut afternoon glare. Sheer shades diffused incoming light. For greenhouses, we chose polycarbonate roofing to maximize light transmittance.
By tweaking natural lighting, each zone enjoyed great visibility. Light lifts moods and perfectly illuminates our lush floral displays.
Choosing a Colour Palette: Setting the Mood
Our color scheme needed to refresh dated visuals while harmonizing with Hiatt's vintage charm. Soft, welcoming hues aligned with our brand.
Walls donned soothing sage greens, warm ivory, and sprightly yellows. Pops of rose gold and violet accented focal points. Chocolate browns grounded wood elements.
Creamy whites kept the space feeling airy. Florals motifs on wallpaper and murals honored our industry. Tan leather seating and blue-grey carpets exuded cozy sophistication.
Display props and shelving opted for natural, neutral wood tones. Fixtures chose sleek chrome or brushed bronze.
The thoughtful color palette energized yet relaxed guests. Color reinforces the joy of flowers and feeling of home Hiatt's embodies.
Eco-friendly Choices: Our Green Initiatives
Incorporating sustainable materials and practices was a priority. Solar tubes, skylights, and LEDs reduced energy usage.
Reclaimed barn wood paneled the cash wrap counter. Low or no-VOC paints kept air clean. We sourced local materials to minimize transportation impacts.
Bathrooms featured low-flow plumbing fixtures, waterless urinals, and automated faucets. Thermostat adjustments and zoned HVAC units boosted efficiency.
Drought-tolerant native plants surrounded the building exterior. A reflective roof decreased heat absorption.
Recirculating water systems irrigated our greenhouse plants. Solar panels offset electrical usage.
Our green upgrades shrank Hiatt's environmental footprint while positioning it as a leader in sustainable floristry.
Insulation Works: Keeping Temperatures Optimal
Proper insulation improves comfort and reduces energy waste from heat or cold escaping. We infused walls and attics with blown cellulose.
Dense packed insulation aligns fibers tightly to resist settling over time. Advanced flame retardants met safety codes.
Flooring received high-R value rigid foam boards beneath substrates. Acoustical insulation also dampened sound transmission.
Air sealing with caulk and spray foam curbed drafts. Vapor retarders in walls prevented moisture issues. Proper ventilation let insulation breathe.
Our insulation upgrades created consistently comfortable temps year-round. Better climate and noise control improved the shopping experience.
Air Conditioning and Heating: Modern Climate Control
Outdated HVAC systems left some areas drafty and others sweltering. New ductless split AC units zoned temperatures for precision.
The main floor got ceiling cassette systems for unobtrusive air distribution. Wall mounted units cooled the coffee bar and back office discretely.
Programmable thermostats let us schedule optimal temperatures hourly. Preventative maintenance contracts kept units running efficiently.
Showcase Areas: Highlighting Our Best Blooms
One design goal was creating enticing showcase spaces drawing customers to linger. Refreshed shelving lined perimeter walls, backlit to spotlight floral wares.
The redesigned center island attraction comprised a fountain enclosed in glass, with leafy greens growing within. Shimmering lights under the water created a soothing focal point.
Bouquets stood out within slim black vases upon modern gold geometric stands. Bold monochromes emphasized nature's vibrant colors. Mirrored walls reflected light and space.
Our most exciting showcase was a living moss wall behind the counter – low maintenance succulents anchored into a faux vertical garden. Its organic texture provided a living backdrop greeting customers.
Through careful engineering of display aesthetics, we created engaging spaces enticing interaction and accentuating our flowers' splendor.
Storage Solutions: For Freshness and Longevity
Maximizing fresh floral storage capacity was essential to minimize waste. Built-in humidified coolers preserved bouquets and arrangements.
Shelving transitioned from dated wooden units to sleek, wall-mounted metal racks doubling capacity. We incorporated rolling carts for transport flexibility.
The back room gained spacious new chest freezers for floral stock longevity. Labels and digital logs enabled order tracking.
We installed an overhead storage system with pulley lifts to optimize vertical space. Bins held event decor supplies and vases.
Sufficient, efficient storage meant we could order inventory further in advance while keeping blooms fresher longer. No more cramped, disorganized spaces!
Workspace Design: For Our Florists' Comfort
Our hardworking designers deserved a beautifully functional workspace supporting creativity. Custom angled tables enabled collaboration.
Task lighting kept work surfaces brightly illuminated. Magnetic strips held crucial tools within arm's reach.
We chose ergonomic rolling stools to make long hours on their feet more comfortable. Racks underneath stools corralled bags and aprons.
Soothing music played gently to inspire designers. A fresh floral scent pumped through diffusers kept energy bright.
Thoughtful touches like a living herb wall, natural wood accents, and a trickling fountain contributed to a relaxing yet inspiring workspace.
Customer Seating: Ensuring Comfort While You Wait
Previously, seating was an afterthought – just a few tired chairs cramped by the door. Our new layout welcomed guests to relax.
Plush linen sofas formed cozy seating vignettes near display windows. Side tables held vases of fresh flowers. Wall sconces cast a warm glow over lounging areas.
Reclaimed wood benches surrounded the bubbling water feature, perfect for waiting on custom orders.
By the coffee bar, padded counter stools lined the granite bar for casual mingling. Durable, washable upholstery stood up to spills.
Comfortable, ample seating transformed Hiatt's into a welcoming space to decompress and enjoy beauty. Guests could linger longer over decisions or converse.
Tech Upgrades: Modern Payment and Booking Systems
Speedy, secure transactions were a must for our tech overhaul. Sophisticated POS systems enabled tap or chip purchases in seconds.
Built-in encryption and compliance assured card data protection. Receipts digitally stored purchase histories in the cloud versus wasteful paper slips.
Online booking simplified sending flowers anywhere nationwide right from our website. Customers could place orders remotely 24/7.
Digital interfaces like floor-to-ceiling interactive catalogue kiosks enriched engagement. Virtual floral arrangement stations brought whimsy through customizable digital bouquets.
Robust back-end inventory management software tracked stock and sales.
Smooth front and back-end technology made commerce efficient while delighting customers with digital innovation.
Security Systems: Keeping Our Premises Safe
We invested in upgraded security to protect staff, inventory, and customers. Cameras with motion detection capabilities monitored all angles.
Sensors on entryways chimed when opened. A back-door video intercom enabled secure deliveries. Coded employee access cards prevented unauthorized entry.
A monitored alarm system detected intrusion or fire hazards 24/7. Locks got rekeyed for controlled access. Safes protected valuables.
The service counter and cash wrap had panic buttons to discreetly summon help if issues arose. External lighting kept the perimeter illuminated after dark.
Robust integrated security gave us peace of mind and deterred criminal activity. Staff gained confidence working late knowing we took every precaution.
Outdoor Spaces: Landscaping and Parking
Curb appeal and accessibility mattered, so we gave the exterior a complete refresh through new landscaping and parking additions.
Fresh sod replaced weedy grass while new shrubs and flower beds burst with vibrant blooms. Winding rock paths invited leisurely strolls.
New cedar trellises enclosing patio seating offered shade and privacy. Planters overflowing with ivy soften hard lines.
Rearranging the lot accommodated more parking with new compact spots and handicap spaces. Solar pathway markers illuminated night access.
The upgraded exterior provided a welcoming, accessible oasis that aligned beautifully with our brand. Lush greenery and florals entice guests inside.
Signage and Branding: Making Our Mark
Finally, our new exterior signage proudly announced Hiatt's return after months of renovations. Vivid graphics and lighting drew attention.
A classic 3D metal logo fastened near the roofline while vinyl lettering adorned the entryway's frosted glass.
Inside, custom art panels and framed photos reinforced our legacy in the community. Water jet cut metal words spelled "We Make People Bloom" behind the counter.
Whimsical floral patterns embellished accent walls. Engraved wooden room signs labeled workshop spaces and offices.
Cohesive signage and art tied the space together visually while highlighting what we do best – spreading joy with flowers.
Eco-friendly Waste Disposal: Responsible Renovation
Keeping over 22 tons of renovation debris out of landfills was a challenge we embraced through responsible waste management.
We sorted materials carefully into recyclables like metals, cardboard, concrete, and drywall. Salvaged vintage items got donated.
Hazardous wastes like old lightbulbs, lead-based paints, and asbestos required special disposal at approved facilities. We recorded transport for accountability.
Writing demolition plan helped maximize redirection of waste from landfills. Subcontractor contracts included recycling requirements.
While renovating sustainably required extra effort, it aligned with our eco-values. We diverted over 75% of materials away from landfills.
Feedback Loops: Incorporating Staff and Customer Suggestions
Throughout the process, we regularly checked in with staff and loyal customers regarding renovation. Their insights proved invaluable.
Focus groups provided sneak peeks of in-progress renovations to gather honest feedback. Online surveys opened another avenue for input.
The collaborative process sparked ideas like expanded delivery services, education workshops, and customer appreciation events post-reopening.
Our engaged community felt invested in the rebirth of a neighborhood institution. By listening, we gained insights that strengthened Hiatt's for the long term.
Challenges Faced: Lessons Learned
Despite meticulous planning, we inevitably faced challenges during this ambitious renovation. Learning from each issue made us stronger.
Sudden spikes in material costs from supply chain woes required us to rework the budget. We scaled back certain finishes while getting creative elsewhere.
The aging electrical system caused unexpected shutdowns once updated lighting overloaded the circuits. Rewiring took longer than anticipated.
At times communication between the many contractors caused delays. Improvement came from designating a daily point person.
While trying, overcoming obstacles as a team reinforced resilience. We celebrated small wins and found solutions at each roadblock.
Overcoming Delays: Staying on Schedule
Keeping the renovation on schedule was imperative but far from guaranteed. Our contractors utilized several time-saving techniques.
Staggering crew shifts enabled 24/7 productivity – electricians worked nights while painters took day duty. Multiple job sites ran simultaneously.
Consistent communication ensured crews worked efficiently together, passing off completed phases promptly.
Ordering materials further ahead prevented shortages, and warehousing them on-site averted delays. Installation followed right behind deliveries.
The project managers skillfully rearranged timelines when any phase fell behind. Outstanding subcontractors went the extra mile if needed.
Thanks to experienced leadership and coordination, the project concluded on-time. Our temporary closure period minimized business disruptions.
Vendor Partnerships: Collaborating for Success
This extensive renovation required collaborating with dozens of specialists. Finding vendors who shared our vision was key.
Local flooring companies kept our vintage terrazzo restoration on point. High-end lighting designers handpicked each fixture.
Talented muralists carefully replicated our signature floral ceiling. Metal fabricators built sturdy racks matching specifications.
We nurtured relationships with suppliers providing wholesale flowers, vases, ribbon, and decor. Their high-quality goods filled our new spaces.
Relying on knowledgeable partners for specialty works simplified our huge undertaking. Mutual trust and care for the project brought success.
The Role of Building Hire Equipment
To supplement owned power tools, we utilized building hire equipment for niche tasks benefiting from commercial-grade machinery. Their specialized performance simplified complex jobs.
We hired a concrete mixer for efficient, consistent pouring of floor patches and sidewalk improvements. Rotary hammers made quick work of brick demolition.
Scissor lifts provided safe overhead access for atriums and rooftop HVAC works. A telehandler lift enabled positioning heavy condenser units.
High-reach excavators dug trenches rapidly to lay new underground electric lines.
Having 24/7 access to well-maintained equipment prevented reliance on buying costly niche tools. Building hire services accelerated progress.
Scaffolding: Reaching New Heights Safely
For atrium and roofing projects, adjustable scaffolding systems proved invaluable for safe access. We opted for frame scaffolds versus risky ladders.
The modular components let us reconfigure scaffolding easily to match job site needs. Planking created wide, stable work platforms.
Guardrails and toe boards prevented tools or materials from falling. Built-in ladders provided entry points. Locking wheel brakes immobilized the structure.
Daily inspections ensured structural integrity before our crews ascended. Hard hats added protection from overhead dangers.
Scaffolding delivered essential overhead access while prioritizing worker safety above all else. The investment offered peace of mind.
Concrete and Masonry: The Backbone of Our Structure
Renovating Hiatt's brick exterior and concrete flooring required specialized masonry services and equipment. Powerful mixing and cutting tools did the heavy lifting.
We hired concrete cutters and brick saws to cleanly remove damaged sections. Power trowels produced smooth finishes on poured slabs.
Masonry chisels precisely cut new brick infills to match existing patterns. High-power mixers produced homogeneous concrete batches.
Chemical anchoring systems secured new masonry elements. Reinforced lintels supported openings.
From replacing cracked walkways to restoring walls, masonry tools enabled our contractors to strengthen the backbone of Hiatt's structure.
Woodwork: Crafting Beautiful Interiors
Our vision relied heavily on millwork like decorative trim, custom shelving, and built-ins requiring commercial woodworking tools. Table saws ripped lumber precisely.
Planers transformed rough boards into smooth furnishings. Lathes shaped chair legs, table bases, and ornamental spindles.
CNC machines carved specialty pieces like signage lettering and reception desk facades. Dust collection systems maintained air quality.
On-site touch-ups used belt sanders, miter saws, and routers for adjustments and smoothing. Staining and sealing completed jobs.
With quality commercial woodworking equipment, our team built custom fixtures elevating Hiatt's interior design to the next level.
Metal Works: Adding Strength and Elegance
From structural scaffolding to decorative accents, metal elements imbued Hiatt's with strength and elegance. Plasma cutters shaped custom metal art.
Our back office gained sleek stainless steel shelving and tables for durability and easy sterilization. A forged coat rack added stylistic flair.
Welded wire flower displays accentuated openings with airy elegance. Powder coating finished metals for fade-resistance.
Angle grinders smoothed metals joins while tube benders shaped architectural details. Riveting produced sturdy connections.
Fine metalworking tools enabled discreet incorporation of metal for aesthetics and functionality throughout the space.
Glass Installations: Transparent Beauty
Glass introduced beautiful transparency into previously enclosed spaces. Master glaziers installed windows, partitions, and skylights.
Diamond-tipped glass saws cut openings to size. Copper foil fused colorful stained glass mosaics supplying the coffee bar's light.
For the sunken floral fountain, skilled artisans safety-tempered the cylindrical glass. Adhesives and sealants made joins watertight.
Glass railings ensured safety without blocking views. Mirrored walls visually expanded tight areas.
Specialized glass tools allowed incorporation of translucent surfaces that filtered light beautifully and opened up sight lines. The materials aligned perfectly with the project's aesthetic vision.
Soft Furnishings: Adding Warmth and Comfort
Upholstered sofas, plush pillows, rugs, and fabrics imbued Hiatt's with inviting warmth. We selected durable, stain-resistant fabrics able to withstand heavy use.
Tightly woven polyester blends covered seating for easy wipe downs. Wool area rugs deterred tracking and shedding. Velvet pillows added luxury.
Our workroom gained patterned cotton curtains softening harsh lighting. Fire-retardant treatments met safety codes.
Sewing machines neatly hemmed table linens and pillows. Long-arm staple guns attached upholstery fabric tautly.
The right tools produced soft furnishings withstanding commercial use while adding coziness to public areas. Custom pieces aligned with the new design scheme.
Lighting Choices: Illuminating Our Space
Carefully curated lighting transformed Hiatt's formerly dim space into a bright, welcoming environment. Task, ambient, and accent lighting provided versatility.
Fluorescent grow lights facilitated greenhouse cultivation. Track lighting focused attention on displays. Sconces generated welcoming glows.
Accent pendants defined lounge spaces while recessed cans provided general illumination. Dimmer switches enabled adjustment.
Outdoor lighting enhanced curb appeal and safety. Mirrored fixtures visually expanded tight areas. Automatic daylight sensors conserved electricity.
Thoughtful layering of light fixtures ensured stunning visibility, safety, ambiance, and energy efficiency throughout the refreshed space.
Acoustic Solutions: Ensuring a Peaceful Ambience
Limiting reverberation and muffling noise required strategic acoustic treatment. Sound-absorbing panels and insulation brightened ambience.
Ceiling clouds, acoustic wall tiles, and noise-dampening insulation absorbed echo, chatter, and fluorescent hums in the main retail floor.
The back office gained white noise machines masking distracting sounds from the adjacent workshop. Carpets minimized foot traffic noise.
Quieter HVAC systems, layered drywall, and door weatherstripping reduced airborne noise transfer. Vibration dampeners prevented rattling.
Attention to acoustics enhanced relaxation while supporting clearer communication between staff and customers. The tranquil environment aligned beautifully with our brand.
Art and Decor: Personalising Our Space
Final decorative touches infused Hiatt's with personality. We commissioned local artists to create original pieces conveying our brand essence.
Oversized floral prints added bright pops of color. Abstract mixed media sculptures provided visual intrigue. A hand-painted mural enlivened the coffee bar.
Vintage signs and family photos built an emotional connection to our heritage. Framed awards displayed our community contributions.
Potted plants, aromatic candles, and fresh-cut blooms throughout enhanced sensory appeal. Careful curation made the space lived-in and welcoming.
Bespoke art and decor concealed impersonal commercial elements to create a space guests desired to linger within and felt connected to emotionally.
The Final Inspection: Ensuring Quality
Before opening the doors, general contractors scoured every inch ensuring flawless completion. They created detailed punch lists for subcontractors.
Painters touched up any drips or missed spots. Electricians replaced any burnt out bulbs. Plumbers fixed leaks immediately. Cleaning crews scrubbed all surfaces.
We performed HVAC balancing to optimize comfort and airflow. The fire alarm and security systems underwent testing. All equipment received final safety checks.
Only once our high standards for functionality and aesthetics were met did we officially call the renovation complete.
The general contractor's stringent final inspection process upheld quality and averted potential issues down the road. Their diligence ensured total readiness for opening.
Grand Reopening: Welcoming You Back
After months of intensive renovations, we were thrilled to finally reopen our doors to the community. We hosted a week of celebrations to welcome loyal customers back.
Festivities kicked off with a VIP first look event for invited guests. Appetizers, champagne, and live music set a party tone as visitors explored the new space in wonder.
A weekend open house offered kids flowerpot painting while a floral arranging class entertained adults. Raffle tickets earned visitors gift baskets brimming with grand opening goodies.
The culminating event was a 1960s themed garden party with costumes, classic cars, string lights, and lawn games on our newly landscaped grounds.
We were deeply grateful for the outpouring of support and excitement welcoming us back better than ever. Our grand reopening represented a joyous new chapter for Hiatt's Florist.
Customer Reactions: First Impressions
The amazed gasps and beaming smiles from long-time patrons upon seeing the reimagined space were priceless. Compliments poured in opening week.
Many reminisced fondly about coming as children while marveling at the contemporary updates balancing modernity with nostalgic charm.
They praised the bright, open layout and intuitive traffic flow. Our striking focal features like the living moss wall garnered lots of attention.
Showcase Areas: Highlighting Our Best Blooms
One goal was creating enticing focal points to highlight key products. Artfully designed statement displays demonstrated our design capabilities.
The heart of the store features a sleek refrigerated case displaying exotic orchids, tropicals, and imported roses. Modern hanging installations suspend wreaths and lush terrariums at eye level.
Seasonal shows rotate blooms fitting holidays and themes. Whimsical vignettes with props showcase gift baskets and live plants.
Bold arrangements on pedestals draw foot traffic through key areas as "flower fantasies" inspire purchases.
Thoughtful displays and interactive exhibits reinforce Hiatt's as a destination for exquisite flowers versus a quick stop shop.
Storage Solutions: For Freshness and Longevity
Limited backroom capacity cramped our stock. New cold storage rooms regulate temperature and humidity for longer flower life.
We installed commercial reach-in coolers, partitioned shelving units, and rolling carts for organized, accessible storage. Labeling systems help locate items quickly.
Cabinets safely store chemicals, vases, and tools. A locked caged area secures high-value blooms like orchids. Wide industrial racks accommodate our high supply turnover.
By designing storage for peak efficiency, we keep abundant inventory on hand while preserving freshness and cutting waste. Streamlined organizationminimizes search times.
Workspace Design: For Our Florists' Comfort
Maximizing workspace ergonomics reduced strain on floral designers. Height-adjustable tables accommodate sitting or standing. Task lighting illuminates each station.
Tools and ribbon supplies hang within easy reach. Under table shelving keeps frequently used items handy while avoiding clutter.
Large cutting and prep surfaces offer ample elbow room even during crunch times like Valentine's Day. Bins below collect organic matter for composting.
The refreshed workspace improves focus while preventing fatigue. Optimizing comfort and efficiency helps our designers consistently create beautiful arrangements.
Customer Seating: Ensuring Comfort While You Wait
Nobody enjoys standing around while waiting on custom orders. New lounge areas give customers a cozy place to relax.
Vintage armchairs circle side tables for reviewing special order catalogs. A coffee table displays floral care books and magazines to peruse.
Charging stations keep devices powered up. Soft rugs and potted plants create a homey vibe. Artworks depict floral scenes.
Extra seating near the cash wrap lets companions rest while one person pays. Plush benches flank the entrance.
By adding designated waiting areas, we transformed idle time into an enjoyable chance to unwind surrounded by beauty.
Tech Upgrades: Modern Payment and Booking Systems
Limited Point-of-Sale systems and booking technology cost us sales. We invested in major tech upgrades to modernize operations.
A new POS system speeds up purchases with instant credit card processing. eCommerce integration enables web sales alongside in-store transactions.
Appointment scheduling software lets customers book online 24/7. Robust CRM tools track client data with customizable fields for purchases, events, and preferences.
iPads give associates mobile access to our catalog for anywhere ordering. Digital price tags simplify updates.
Tech upgrades bridged our systems gap, making purchases and appointments convenient. Data access informs better customer service.
Security Systems: Keeping Our Premises Safe
Safeguarding staff, clients, and inventory was a high priority. We installed several cameral layers for complete coverage.
Door contacts and motion detectors trigger alarms during off-hours. Backup battery packs keep systems operational during outages.
Reinforced lockboxes protect cash deposits. Anti-theft tags on expensive blooms deter shoplifting. Clear sight lines limit blind spots.
Emergency buttons, two-way radios, and pepper spray equip staff. Strict key protocols limit access. We require employee background checks.
Our multilayered security steps ensure comprehensive protection without feeling overly intrusive. Clients can shop with total peace of mind.
Outdoor Spaces: Landscaping and Parking
Curb appeal and accessibility matter, so we revived drab exterior spaces. New native plantings added year-round color and required minimal water.
Paved pathways with painted floral motifs lead to the front entrance. Rustic benches beneath trees give shoppers a place to stop and smell the roses.
Repaved parking gained fresh striping and signage. New lighting kept walkways and cars safe after dark. A covered drive-thru simplifies pickups.
Loading zones were redesigned for easier deliveries. Bike racks encourage pedaling customers. Outdoor steps feature etched leaf patterns.
Our welcoming exterior matches the beauty found within while smoothing traffic flow. Overall, a safer, cleaner, and greener outdoor space.
Signage and Branding: Making Our Mark
For maximum visibility, we revamped exterior signage with an artistic custom mural. Bold, modern lettering spells out "Hiatt's Florist."
Interior signage gained a fluid floral motif that reinforced our brand identity. Hanging signs label sections clearly. Chalkboard menus display coffee offerings.
Digitally printed graphics educate customers on care tips. QR codes link to tutorials. Typography follows consistent branding guidelines.
Clear navigation reflects our dedication to guiding customers. Sleek, professional signs align with our elevated space.
Eco-friendly Waste Disposal: Responsible Renovation
Keeping waste out of landfills was a best practice we stuck to. Our contractors sorted and recycled metals, plastic, concrete, lumber, and drywall.
We diverted unusable organic matter to composting facilities. Cardboard packaging got bundled for recycling pickup.
Our regular garbage service switched to single stream recycling. In-store recycling bins collect plastics, glass, and paper. Minimal garbage now goes to landfills.
By disposing of renovation and operating waste responsibly, we reduced our environmental impact and supported community sustainability.
Feedback Loops: Incorporating Staff and Customer Suggestions
Keeping staff and customers "in the loop" during renovations was vital for acceptance. We held ongoing meetings to gather input.
Staff relayed concerns about floorplan changes affecting their workflow. We collaborated on furniture arrangements supportive of their process.
Customer surveys gauged needs like more seating, allergy-friendly plants, or extended hours. Many suggestions were incorporated.
Being receptive to feedback ensured changes meshed with true needs versus guesses. Communication cemented support and excitement for the new Hiatt's.
Challenges Faced: Lessons Learned
Despite careful planning, we inevitably faced challenges during this intensive process. Learning from them made us stronger.
Sudden crew illnesses occasionally slowed work and required backup subs. We built thicker timeline cushions going forward.
Some custom-ordered fixtures and materials were backordered. We restructured schedules to work around delays.
Budget overruns on lighting forced us to value engineer. Scaling back fixtures while retaining bright ambience balanced the budget.
The challenges tested us but overcoming them as a team united us tighter. We could handle curveballs and deliver results regardless.
Overcoming Delays: Staying on Schedule
From weather to shipping issues, delays are common with major renovations. Staying nimble kept momentum going.
If materials were delayed, we resequenced schedules to accomplish other tasks first. Multi-skilled crews pivoted easily.
Subcontractor backups were line up to substitute if needed. We ordered long lead-time items as early as possible.
Daily stand up meetings kept everyone on the same page regarding schedule revisions. Extra shifts late nights made up for lost time.
By anticipating delays and responding quickly, we minimized costly overruns. Careful coordination ensured on-time completion.
Vendor Partnerships: Collaborating for Success
Reliable vendors were invaluable partners, providing discreet expertise and preferential pricing. Fostering relationships benefitted the project.
Our flooring supplier expedited rush delivery of hardwoods for us. Other vendors prioritized our custom orders and provided warehousing space.
Early selection of key vendors got us preferential pricing and service turnaround. Their long-term involvement created familiarity.
Checking vendor references verified quality and professionalism. We continue partnering with them well beyond the renovation.
Solid vendor relationships kept work flowing smoothly and affordably. Mutual trust and understanding paved the way to success.
The Role of Building Hire Equipment
While owning certain tools made sense, we heavily utilized equipment rentals to control costs. Having access to pro gear got the job done.
We hired scissor lifts for overhead electrical and lighting tasks. Concrete saws were rented for sidewalk repairs.
Other rentals included tile saws, trenchers, powerful vacuums, and dump trailers. We opted for rental's insurance versus liability.
For infrequent or heavy demolition, jackhammers and other tools were rented. Some large equipment was hired with an operator.
Without the availability of quality rental equipment, we could not have achieved the renovation's full scope affordably. Rentals offered optimal flexibility.
Scaffolding: Reaching New Heights Safely
To safely access Hiatt's tall ceilings, exterior, and high installation points, we erected scaffolding properly.
Riggers assembled sturdy tube and clamp systems specifically for our space. Safety rails, toe boards and netting created a secure work platform.
Wheeled scaffolding added mobility indoors. Outdoors, stationary units were firmly anchored into the ground without obstructing pedestrians.
Daily inspections ensured stable assembly and that wheels and footings were locked. Built-in ladders provided access.
Scaffolding accommodated tasks at heights in a far safer manner than ladders. The investment was well worth it.
Concrete and Masonry: The Backbone of Our Structure
Hiatt's existing brick walls boasting vintage character just needed repointing and sealing. We also freshened up exterior stucco.
Sidewalks were ripped up and re-poured to remedy cracks and crumbling. New reinforced concrete boosted durability.
Indoors, cracked floors received a reinforced concrete resurfacing for a perfectly smooth finish. We etchedcirclular floral patterns for visual interest.
Masons restored stone flooring and features around the fireplace using historically accurate techniques. Mortar matched the original strength and hue.
By reviving Hiatt's concrete and masonry elements, the building's essential structural integrity was bolstered for longevity.
Woodwork: Crafting Beautiful Interiors
Our designers envisioned incorporating rich wood accents throughout for warmth. Hiatt's fine carpentry expertise brought their vision to life.
Custom shelving and display units added storage while showcasing products beautifully. Distressed wood tables carried through rustic charm.
Trim carpenters installed intricate crown molding with floral embellishment for a classic feel. Wood paneling accent walls added pleasing texture.
Cash wrap counters got sleek reclaimed wood facades. Sturdy butcher block tops served as work surfaces.
Expert woodworkers enhanced Hiatt's refined yet welcoming interiors through stunning custom carpentry and finishing.
Metal Works: Adding Strength and Elegance
Beyond wood, metal elements lent industrial flair. Polished steel beams reinforced the open-concept floor plan.
Brass accents on light fixtures and railing infused old-world class. Vintage filigree screens gave an artful look when backlit.
Modern wire shelving units maximized displays in the back stockroom. Stainless utility sinks streamlined cleaning.
Meticulous railings ensured safe footing on the mezzanine catwalk. A custom forged fireplace screen completed the look.
Strategic use of metals, from sturdy structures to delicate details, elevated Hiatt's visuals in compelling ways that aligned old with new.
Glass Installations: Transparent Beauty
Graceful glass elements softened hard edges while ushering in natural light. Frameless shower enclosures modernized bathrooms.
An interior glass wall partition maintained sightlines between store sections. Acid etched panels and shelves added artistic flair.
Display cases gained crystal-clear tops to spotlight merchandise. Accent windows and mirrors magnified brightness.
For entrances, sleek tempered glass doors elegantly framedLAwelcome views. Small accents like knobs and sinks featured hand-blown glass.
Soft Furnishings: Adding Warmth and Comfort
Plush upholstered seating transformed waiting areas into cozy oases. Durable performance fabrics withstand heavy use.
Deeply cushioned sofas and chairs in an earthy color palette beckon visitors to relax. Tufted leather ottomans add refined style.
Window seats gained custom slipcovers and throw pillows for enjoying garden views. Removable covers enable cleaning.
Back office staffers appreciate new ergonomic desk chairs with breathable mesh. Washable slipcovers protect seating in high-traffic zones.
Through soft yet resilient upholstered furnishings, we injected comfort and luxury into Hiatt's formerly sparse interior landscapes.
Lighting Choices: Illuminating Our Space
The renovated lighting plan optimized visibility and ambiance. Crisp xenon track heads spotlight merchandise.
Spaced recessed cans wash the main floor in uniform brightness. Pendants define individual zones like the coffee bar and lounge.
Sconces generate welcoming glow flanking mirrors. Backlit onyx light boxes embellish walls with moody ambiance.
Outdoors, pathway fixtures guide after dark. Timers adjust for daylight fluctuations. Grow lights assist greenhouse plants.
Carefully layered lighting casts Hiatt's in a flattering mix of brightness and drama that highlights architectural details and activities.
Acoustic Solutions: Ensuring a Peaceful Ambience
Limiting noise and echoes created a more relaxing experience. Acoustic panels absorb sounds in busy areas.
Ceiling clouds diffuse noise in the open retail space. Carpeted zones prevent chair scraping and footfall echoes.
Quieter HVAC fans prevent rumbling. Insulated ducting damps airflow noise. Doors gained seals to block sound transmission.
A soothing soundtrack of gentle piano tunes played just loud enough to mask street noise and chatter.
Strategic acoustical planning brought tranquility to what could easily be a cacophonous public space. The difference was palpable.
Art and Decor: Personalising Our Space
Locally sourced art installations personalized Hiatt's new interiors with charm and character. Sculptures created natural focal points.
Massive vintage flower prints adorn statement walls, while custom murals depict lush gardens in the coffee lounge.
An abstract forged tree sculpture crafted from machine parts dresses up a blank brick wall. Salon-style gallery groupings display varied works.
Decor elements like vases, candles, and greenery soften commercial edges. Bold lighting highlights each piece.
Carefully curated and positioned art conveys Hiatt's brand identity while creating an enriching, interesting environment customers admire.
The Final Inspection: Ensuring Quality
Before opening, contractors triple-checked every inch, fixing flaws and completing punch list tasks. We set quality standards high.
Carpenters adjusted sticking doors and cabinets. Drywall seams disappeared under painter's touch ups. Light wash ensured uniform brightness.
HVAC balancing optimized comfort and efficiency. Plumbers fixed any drips immediately. Electricians swapped dead bulbs and outlets.
Deep cleaners scrubbed every surface pristine. We tuned audio and tested security thoroughly.
Meticulous final inspections ensured no detail was overlooked. Only perfection was satisfactory for Hiatt's big reveal.
Grand Reopening: Welcoming You Back
After extensive renovations, Hiatt's long-awaited grand reopening was a week-long celebration welcoming back loyal customers.
We hosted an exclusive preview party where VIPs enjoyed bubbly and appetizers while exploring our transformed space in excitement.
Daily open houses offered kids activities, flower arranging classes, coffee tastings, and live music. Raffles encouraged visitors to enter to win.
The grand finale was a 1960s-themed garden party with staff dressed in period costumes, classic cars, string lights, and lawn games.
We were overwhelmed by the abundant community love and support celebrating Hiatt's. Our hard work rebuilding was validated by their thrilled reactions.
Customer Reactions: First Impressions
On reopening day, amazed gasps and smiles from patrons said it all. Many reminisced fondly about coming as children.
They praised our harmony of vintage touches with contemporary updates and exciting new offerings like the coffee bar.
Rave reviews applauded the refreshed open layout, airy brightness, and intuitive traffic flow. Our eye-catching focal features garnered attention.
Many thanked us for retaining the essence of Hiatt's legacy while propelling it into the future. The consensus was we had honored our history beautifully.
We were truly moved by longtime customers' heartfelt reactions. Their emotional connection to this community mainstay was reinvigorated.
Staff Feedback: Adapting to New Surroundings
Staff insight ensured a smooth transition into the new space. We addressed concerns and gathered suggestions.
Some struggled to locate tools in the redesigned workrooms. Posting maps alleviated confusion.
Reminders were given on new protocols like logging refrigerated stock. We made checklists to reinforce workflows.
To build confidence on upgraded systems, we held training refreshers on the POS and phone equipment.
Ongoing communication and troubleshooting ensured staff became proficient in new operations. Morale stayed high amidst changes.
With attentive support, the team effectively adapted their skills to the revitalized environment. Their flexibility was invaluable.
Maintenance Plans: Keeping Things Fresh
Protecting the substantial investment into Hiatt's required ongoing maintenance. We implemented proactive plans to prevent deterioration over time.
Seasonal deep cleaning includes windows, ducts, and upholstery. Landscapers prune trees and refresh sod.
We partnered with a janitorial company specializing in commercial services. Their daily cleaning maintains pristine conditions.
Quarterly inspections assess wear-and-tear like stained ceiling tiles or worn rugs. We remediate issues immediately to avoid bigger repairs.
Diligent maintenance keeps Hiatt's freshly updated look lasting longer. Protecting aesthetics preserves the enjoyable shopping experience.
Future Plans: Always Looking Ahead
This extensive renovation sets the stage for Hiatt's thriving future. But evolution never stops, so we continuously refine.
Now that systems are modernized, we look to expand our eCommerce capabilities and streamline online order fulfillment.
Educational floral design workshops, kids' camps, and winery partnerships are slated as new community engagement offerings.
Seasonal transformation of displays and decor keeps experiences excitingly fresh. Volunteer days strengthen local ties.
For us, reinvention is ongoing. While respecting our heritage, we will continue enhancing Hiatt's value to the community.
Community Engagement: More Than Just A Business
Hiatt's cherishes our long-standing ties fostered over decades. We actively strengthen community bonds.
Each Memorial and Veterans Day, wreaths are laid respectfully. Local teams and causes gain donated fresh flowers.
Gardening clinics offer free advice to green thumbs. Floristry students gain hands-on practice through mentorships.
Our expansive mural showcasing native flora and fauna was designed in collaboration with schools.
Hiatt's caring presence enriches neighborhood lives in many ways beyond commerce. We take community building to heart.
Special Offers: Celebrating Our New Look
The outpouring of support throughout renovations touched us deeply. To thank the community, we ran weekly specials after reopening.
First 100 customers each day received giveaways like branded tumblers. Free flower bundles went home with purchases over $75.
Weekend workshops offered DIY flower crowns and gift basket making. Pop-up "flower happy hours" gave free buds with cocktail purchases.
We held an appreciation reception with passed appetizers and discounts for teachers, healthcare staff, and first responders.
Small gestures of thanks energized Hiatt's comeback. But truly, our greatest gift was the community's unwavering support and excitement.
Workshops and Events: Engaging with Our Patrons
Reopening Hiatt's newly refreshed space presents opportunities for community events that educate and inspire.
Look forward to creative workshops like terrarium building, succulent arrangement, and kokedama ornament crafting.
Special holiday-themed days like Pumpkin Fest and Christmas Open House invite families to enjoy activities.
In store exhibits will highlight local artisans' works complementing our products and brand. Demonstrations share their techniques.
Hiatt's events calendar aims to continually engage patrons in memorable ways. Experiential activities reinforce our shop as a lifestyle destination.
Sustainability: Our Ongoing Commitment
This renovation introduced greener operational practices that reduce environmental impacts. But our sustainability commitment continues.
We partner with energy providers to source green power for electricity needs. Solar panels and EV charging stations are on the horizon.
Water usage is monitored for optimization. Any planting utilizes native, drought-tolerant landscaping.
Staff involvement fosters new ideas, like an expired floral buyback program generating compost locally.
Each day presents opportunities to improve. As environmental stewards, Hiatt's actively implements solutions supporting a sustainable future.
Acknowledgements: A Big Thank You
Hiatt's successful transformation could not have happened without invaluable support along the way that deserves acknowledgement.
Thank you to our loyal patrons for your patience and encouragement as we completed changes. This refreshed space is for you.
To the project team who poured so much care into revitalizing our vision – you have tremendous talent.
The Charles and Elaine Hiatt Preservation Fund provided critical financial support maintaining and modernizing this local legacy.
We are humbled by the outpouring of community spirit behind Hiatt's. Your faith in us motivates us to keep blooming.
Conclusion: Reflecting on Our Journey
In closing, Hiatt's extensive renovation symbolizes the passion we have for serving our community. We hope our story inspires.
This undertaking required immense collaboration, vision, diligence, and care over many months. Though trying at times, the outcome shined.
By honoring our heritage while fearlessly reimagining our space, we strengthened the foundations for Hiatt's future growth. We can't wait to make new memories here.
Most of all, we will cherish the incredible encouragement our community showered us with throughout it all. Your support means everything.
Hiatt's revival is complete, but the adventure is just unfolding. We look ahead with joy, purpose, and deep gratitude. Our best is yet to come.
Invitation: Visit Our Revamped Space
We warmly invite you to visit the new Hiatt's Florist, whether it's your first time walking through our doors or your hundredth.
Come unwind over fresh tea or coffee in the lounge and take in gorgeous arrangements. Meet our talented designers and ask for advice.
Browse themed displays that inspire gift-giving for any occasion. Wander the greenhouse and breathe in heady floral scents.
Let us create a custom bouquet just for you or a loved one. Or simply pluck a single stem to brighten your day.
You'll notice touches honoring our rich history blended seamlessly with contemporary updates. Hiatt's is ready tobloom for decades to come.
We can't wait to welcome you into our refreshed space. Come experience Hiatt's Florist anew. Your visit means the world.
Feedback Welcome: We Value Your Opinion
Please share any feedback or suggestions as we adjust after the big renovation. Reviews help Hiatt's better serve you.
Fill out a comment card in store or submit your thoughts on our website. Follow and message us on social media.
Sign up for emails to provide input on classes or community events you'd enjoy. Refer friends so we can spread more joy.
By openly communicating, we can keep improving experiences in meaningful ways. Thank you for playing a role in Hiatt's future.
We sincerely appreciate your feedback. Our success stems entirely from the support and trust you place in us every day.